"This gave me a new light, a new mirror." || Duluth Boudoir Interview with AE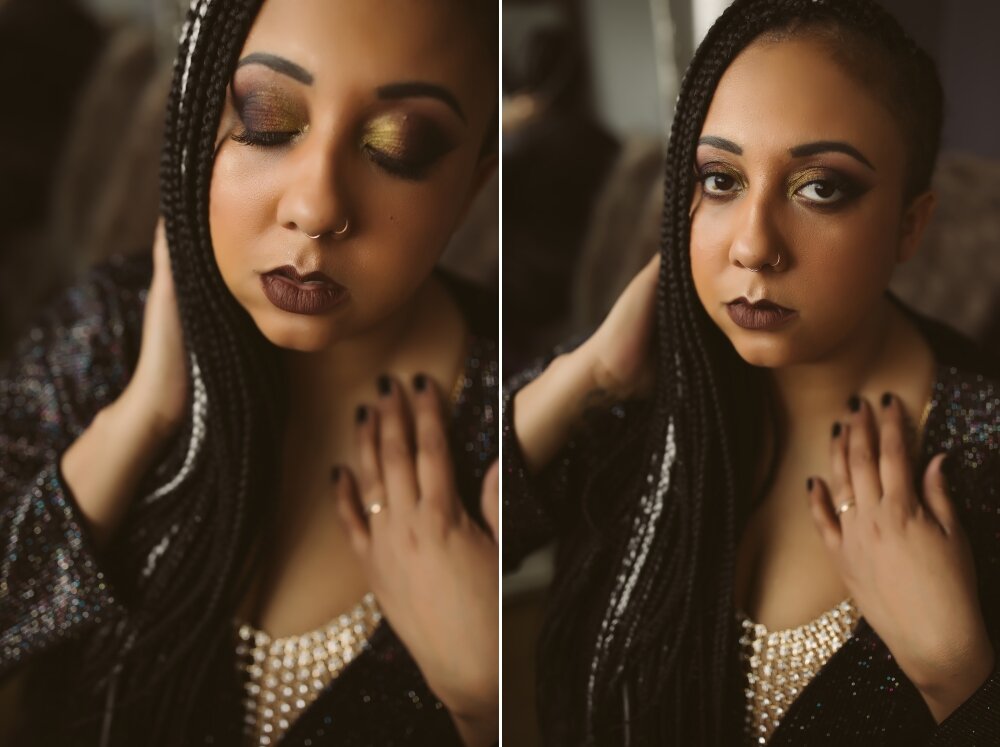 How Old Were You at Your Session? 31
What made you decide to book a session? I was in Vegas and feeling lucky… so I went out on a limb and submitted a few head shots and body shots for the marginalized women contest. I had done a maternity session in 2017 and fell in love with the ladies, the message they were shouting from the rooftops and the vibe of the studio. My maternity session was incredible… but becoming a mother and coming into my own had really given me a new outlook on life and what I was capable of. I also want to raise my daughter to know that all bodies are fucking beautiful and strong. I think it will be so cool to show her the maternity photos side by side with the photos that were taken a year and a half later. I am more sure of my body and it's fun to catch a glimpse of the pre mom me, back when I raised a little hell.
What was originally holding you back from booking a session? Literally nothing. I'll be back for an outdoor session soon…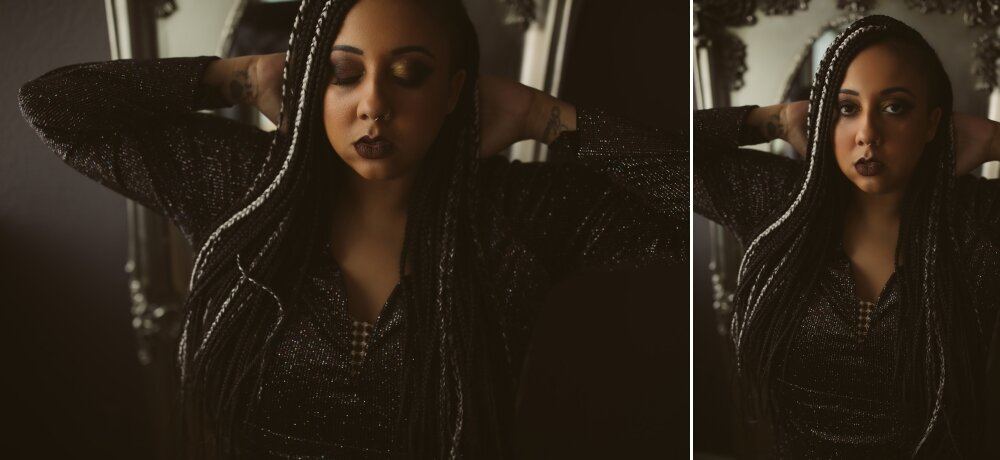 What were you most nervous about for your session? The viewing. Always the viewing. And the heels, I don't think Jes has ever witnessed someone so terrified wearing stilettos.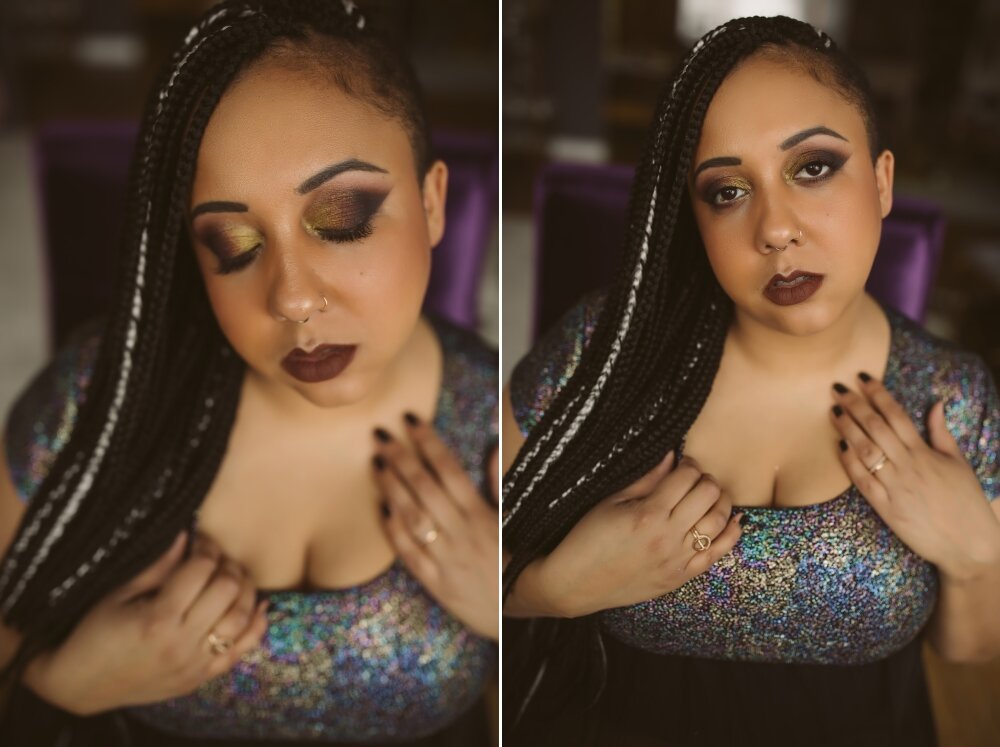 Describe your experience. Well I walked in with donuts from a great shop in the cities so that set the tone! The ladies and I had coffee and caught up and then they showed me the brand new closet… my last session had been at the previous studio. I walked into that closet and every movie with a dressing room try on montage went through my head, it absolute heaven in that closet. They had pulled a ton of pieces for me and I was able to try things on and to get a feel for sizing. When they say they are inclusive they mean it. I ended up not wearing a single thing I brought. i asked the girls to style me, told them I was going for a look that was the total opposite of last time and they did not disappoint. I wanted to be dark, sultry and dangerous and BOOM they hooked me up with my exact vision. They even have a doorbell installed in the glam closet so you can ring them to come in. Katie was attentive, honest about my looks and super helpful when I was looking for certain pieces and sizes. It's also really nice to ring a bell and have an awesome team there ready to help you. Then it was makeup time which is my absolute FAVORITE TIME. Emily crawled in my head, saw the makeup I envisioned and worked her magic on me. She asked questions about eye liner and lip color to make sure I was comfortable which I really liked about the experience. Then the yoga workout… I mean real fun began:) Jes has this incredible way of showing you the exact pose she wants you to do and then practice extreme patience when you still ask 17 questions. She makes you feel at ease and has no problem changing her mind if something she wants to try isn't working for your body or your look. I really like the integrity that Jes has and she isn't afraid to tell you to wear the dang heels. We shot for a few hours and the ladies treated me to an adorable gift bag of items and Katie went through them all so I knew how to use them after my shoot. This gift bag was different than my first and I absolutely loved how thoughtful the items were. After the shoot I went out…. with that makeup there was no way I was wasting it!
How did you feel about yourself after your session? Incredible. Powerful. Confident. Recharged.
Were you nervous before your viewing session? Yes, definitely but I should know better by now because Mad Chicken never disappoints me!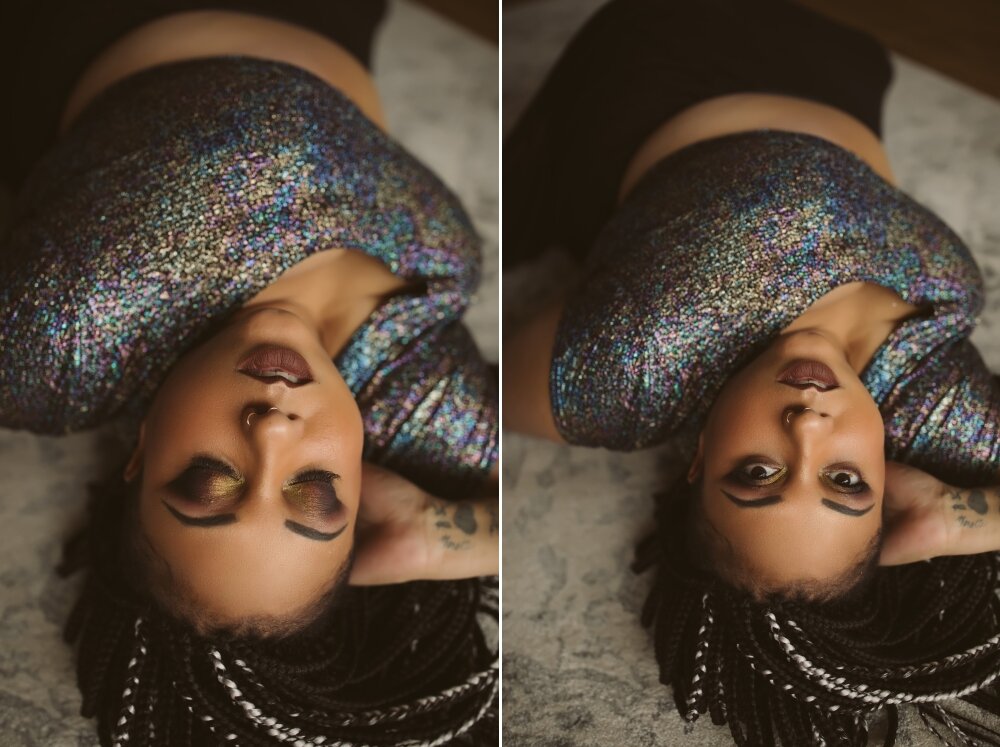 How did you feel about yourself after seeing your photos? Like more than a mom. For a year and a half I had felt drained, frumpy, unattractive. The photos gave me a new light, a new mirror. I actually ordered a photo of my booty. There is no way I would have done that a year ago or even 5 years ago.
What were your favorite products? I am obsessed with the wall hangings. I also own the rose gold album and it's so, so very beautiful. The products are whimsical and thoughtful… just like my entire experience every time I walk into the studio.
What would you tell anyone interested, but maybe hesitant, in booking a session of their own? Just do it. I know the money is an issue for some, book during a sale and get familiar with their payment plan. Your self care is important, your self love is important. Don't wait for your version of a perfect body, don't wait for that next big birthday milestone, don't wait for a convenient time. Life is short. Get naked, cover your boobies in glitter, wear something you'd never wear or wear something you feel sexy in. Just take the damn pictures!
How was working with Jes, Emily, and Katie? They make you feel like you just walked into your best friends house and you happen to just be there to get glammed up and take photos. Katie is your cheerleader, your outfit zipper, your point of contact, your happy go lucky lady. Emily is an incredible hair and makeup artist that really channels the look you are going for and goes with it. She lends her advice with styling and is supportive of however you want your look to go. Jes knows her shit. She is honest when it comes to your outfits and the vibe and I love that she demonstrates the poses and gives such positive feedback that you feel like you are shooting a magazine cover. I can't imagine ever going anywhere else for photographs and you can't imagine a more dedicated photographer than Jes who worked herself into the emergency room… she is okay ladies I PROMISE there were no Jes' harmed in the taking of these photos. 😉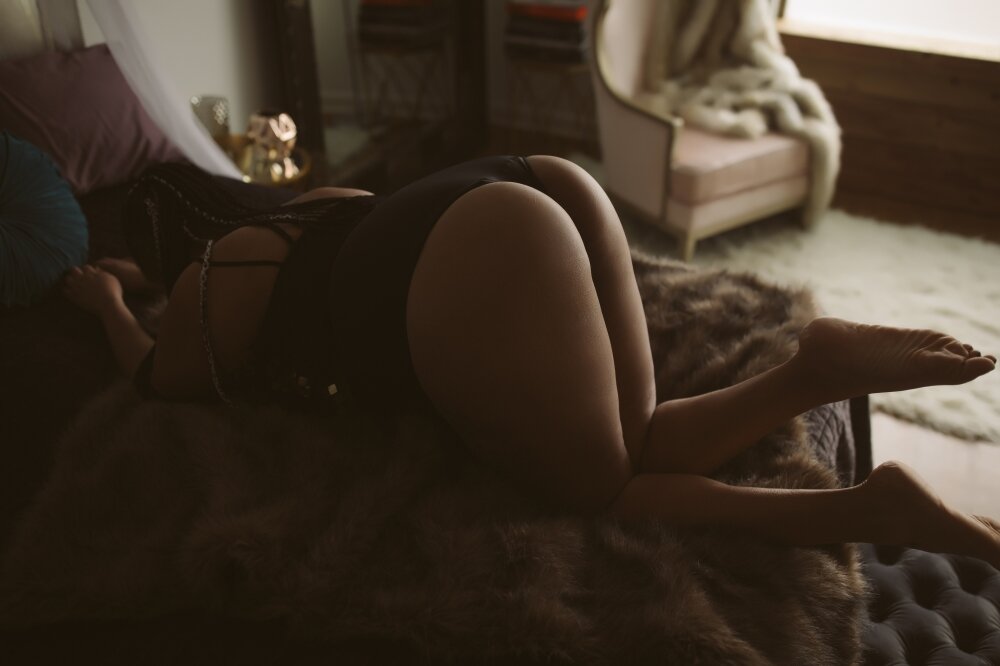 Will you be doing another session? If I could do a session once a month forever I would. I'm hoping for an outdoor session next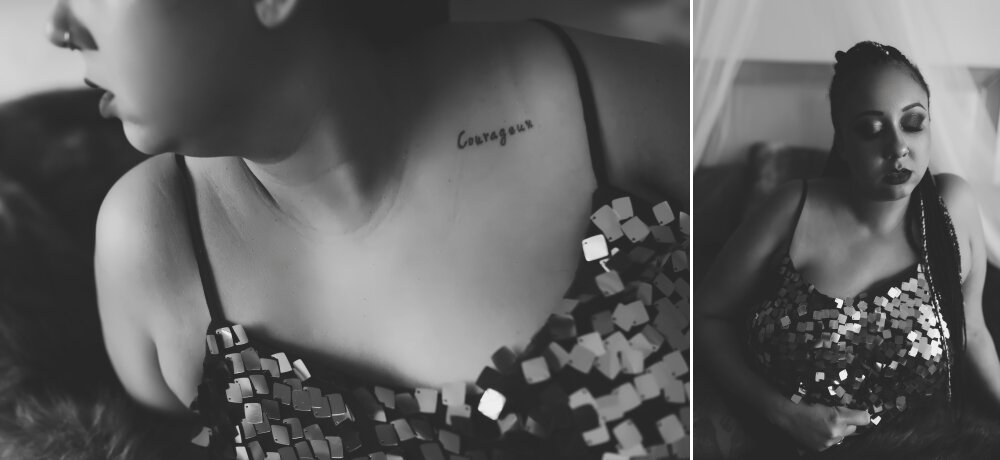 Anything else you want to add? Thank you. Thank you. Thank you. You didn't have to select me and I am so grateful that you did. Being a 5'11, plus size, tattooed, pierced, woman of color with braids and a shaved head in this current world isn't easy but you guys made me embrace my marginalization by celebrating it and that is so incredibly mind blowing. Thank you.