"Damn I look good!" || Kelly Interview with Duluth Boudoir Photography
Name: Kelly Carlson
How Old Were You At Your Session? 32
What made you decide to book a session? Well, I did a mini session in February of 2018 and decided I wanted to book a full! You guys do AMAZING work and I figured why not get my hair and make up done and feel as amazing as I would look in these photos! I also wanted to surprise my husband with a little something!
What were you most nervous about for your session? Um, being half naked in front of people I barely know. haha I found out in March I was pregnant so let me be real here for a moment. I was nervous about my body image and I get wicked teenage acne during pregnancy so guess what showed up on my face like 3 days before. You guessed it a big old friendly pimple! Emily did a magnificent job on covering that baby up because you can't tell!
Describe your experience. The experience was great! Everyone was so nice and gave lots of compliments. They had so many outfits to choose from that it made you feel like as Katie put it getting to play adult dress up. I was a little worried I wouldn't like the way stuff fit because of my awkward body. Not the case at all. They literally make you feel like you were on cloud 9. It is definitely something everyone should experience.
How did you feel about yourself after your session? I felt amazing to say the least! Everyone makes you feel and look great! My hair and make up has never looked so good. Seriously I was ready to go out on the town. Too bad I had kids to pick up. haha
Were you nervous before your viewing session? I was for sure! I was a little nervous about how the pictures would turn out. I Know Jes is amazing at this stuff so not sure why I was nervous. It was me more nervous about me not looking good or not liking what I saw. Totally not the case. It was almost surreal looking at the pictures of myself that didn't look like myself.
How did you feel about yourself after seeing your photos? I felt in awe. I kept thinking damn I look good. Was wondering why I can't always think this way about myself. I am still kind of on a high a couple days after my session viewing thinking about the photos.
What were your favorite products? All the products are amazing. I think my favorite would be the metal prints even though I didn't get one only because I wanted more than one photo so I went with an album so I could pick multiple photos of myself.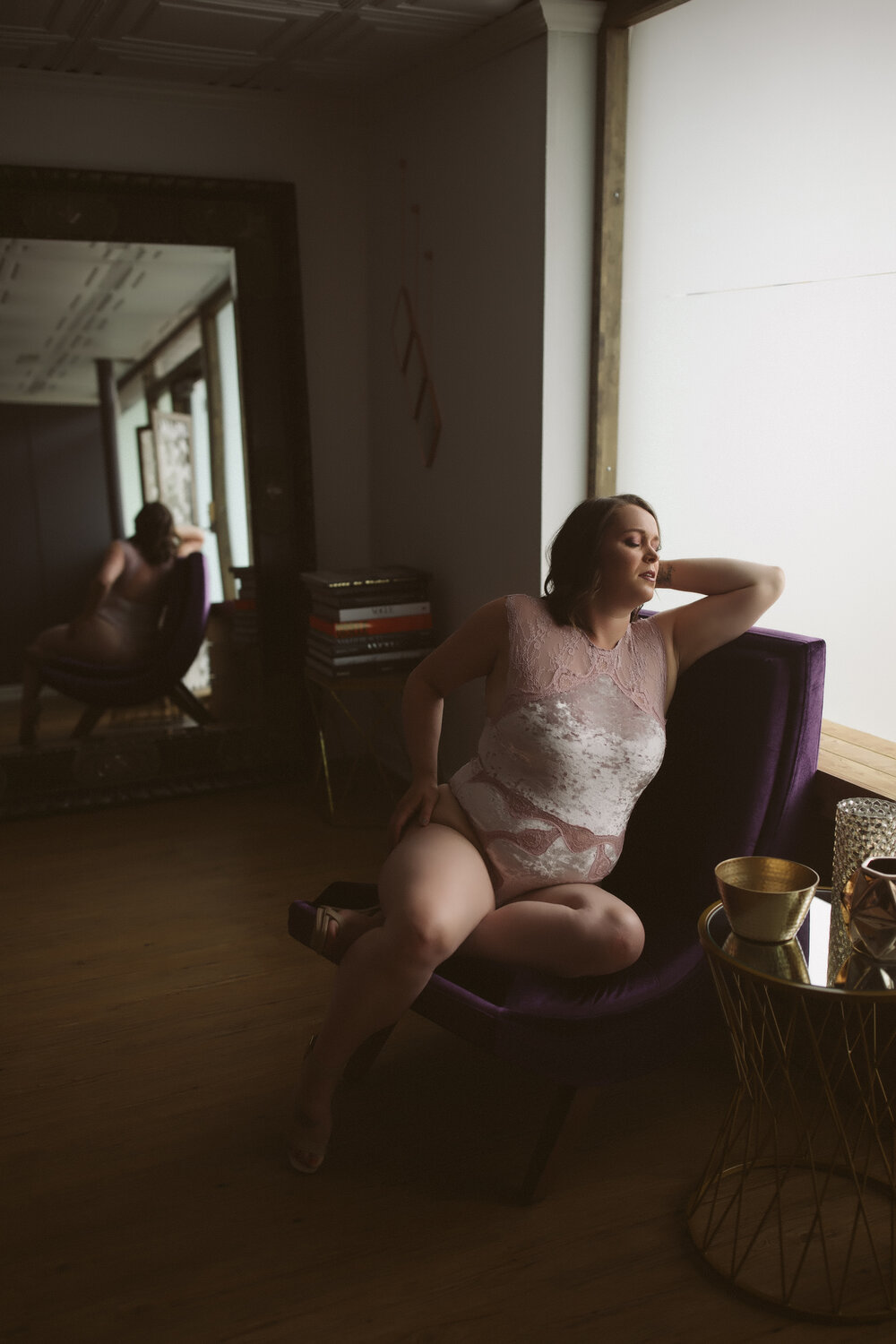 What would you tell anyone interested, but maybe hesitant, in booking a session of their own? Just do it! What have you done for yourself lately? The experience is nothing short of amazing. If you say you want to get into shape or you don't have enough time or money you will never do it. Just bite the bullet do something for yourself and feel amazing afterwards.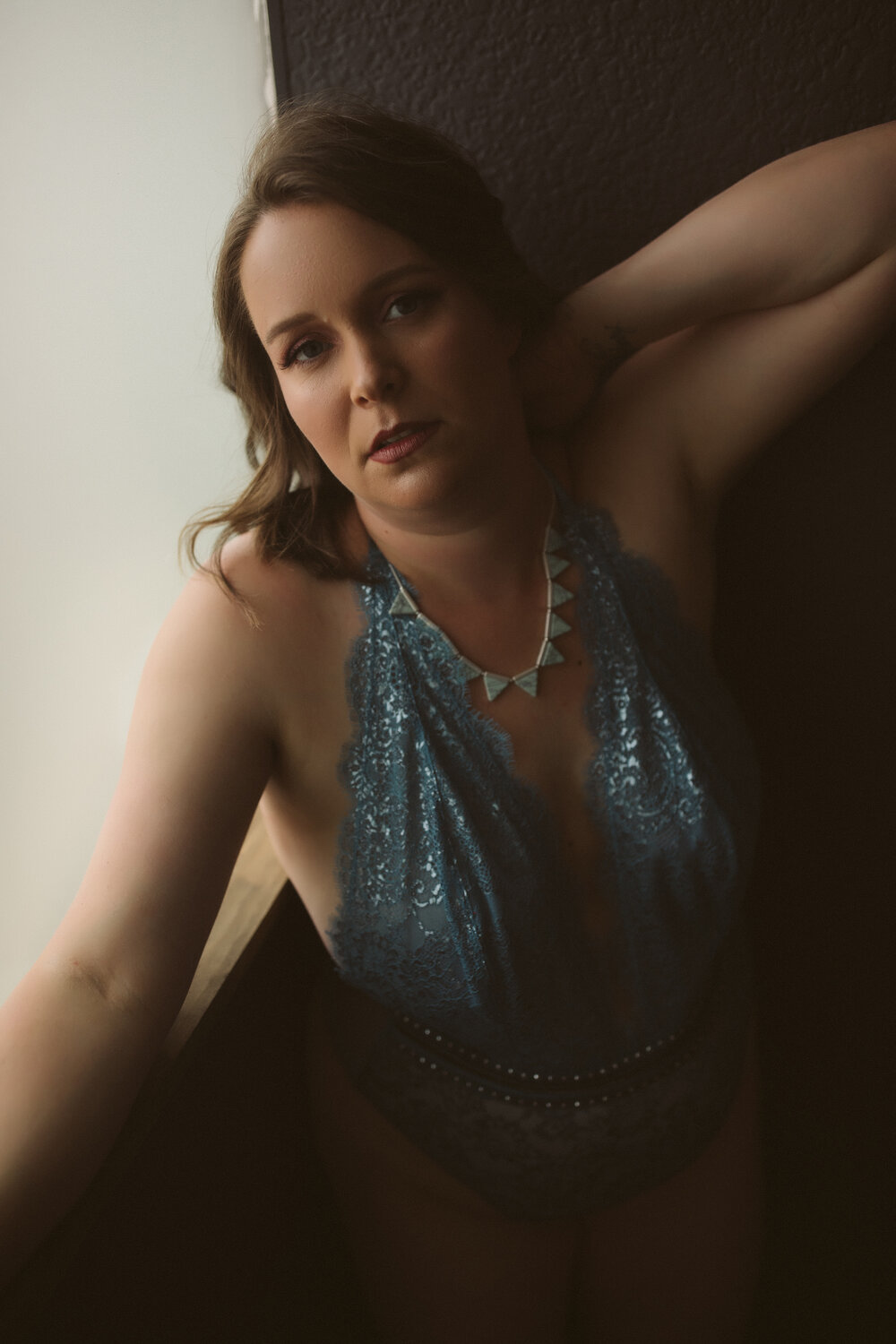 How was working with Jes, Emily, and Katie? It was great! You ladies are so friendly and do everything in your power to make your client feel amazing. You 3 are definitely where you need to be empowering and making women feel amazing.
Will you be doing another session? Yes! I would definitely do another session.
Anything else you want to add? I would like to thank you ladies for giving me an awesome experience and some amazing photos. I just have to figure out how to narrow them down now.
We know this human is stunning, and we know you want to have gorgeous images of yourself as well. If you are interested in booking a session of your own, click here to get started on your own personal journey with us!